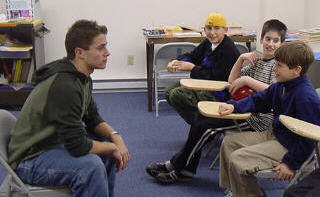 The religious school is small and personal. The focus of our teaching is Jewish history and ethics. the Bible, Jewish holidays, and Hebrew. Our goal is to foster a sense of Jewish identity in our children. The younger children act out Bible stories, and learn the Hebrew alphabet and the Sabbath blessings.
Bar and Bat Mitzvah age children continue to study Hebrew, Torah and prayers, and discuss what it means to become a Jewish adult in the world.
Classes are held at the Beth El / Hillel building.

For information on student placement, the schedule or anything else, please contact the following;
Julia Rhubin ---------------------

JRhubin@cox.net

or 860-684-9521
Leslie Shor -----------------------


LeslieShor@gmail.com



or 860-498-0448

Janis Franklin -------------------




janfranklin@charter.net



or

860-429-2186